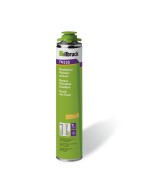 Kierdichting Pur en Coating
Illbruck is een toonaangevend A merk welke de juiste oplossingen biedt voor het kierdicht maken van de woning. Dit kan door bijvoorbeeld de elastische purschuim van Illbruck FM330 of de elastische afdichtingspasta. Een kierdichte woning is volgens Energienulshop het beste te realiseren met onze geselecteerde producten.
In deze categorie vind u de elastische purschuim FM 330 of de kierdichtingspasta van Illbruck.
Alles om uw woning kierdich te maken om zo energie te besparen.
Vraag om gratis advies voor de kierdichting voor uw duurzame renovatie of complete nulwoning!