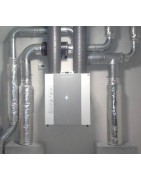 Design / calculation Heat Recovery
For each durable house or passive house is, what Energienulshop regards, balanced ventilation indispensable. We help you with the ventilation calculation, good design of your durable ventilation system. We can also advise you on what type Heat Recovery Unit brand Brink Climate Systems for you is the best solution.
Energienulshop specializes in durable ventilation with Heat-Back Win Ventilation Units!